Preparations to Take Your Practice Outside
As the weather changes, many yogis get excited by the idea of moving their practice outdoors. Along with a beautiful backdrop and fresh air, however, the outdoors can bring bugs, unexpected audiences, and weather surprises that can throw a kink in your plans for outdoor serenity. Whether practicing with a group or on your own, here are a few things to consider in advance to allow for a smooth transition to an outdoor practice.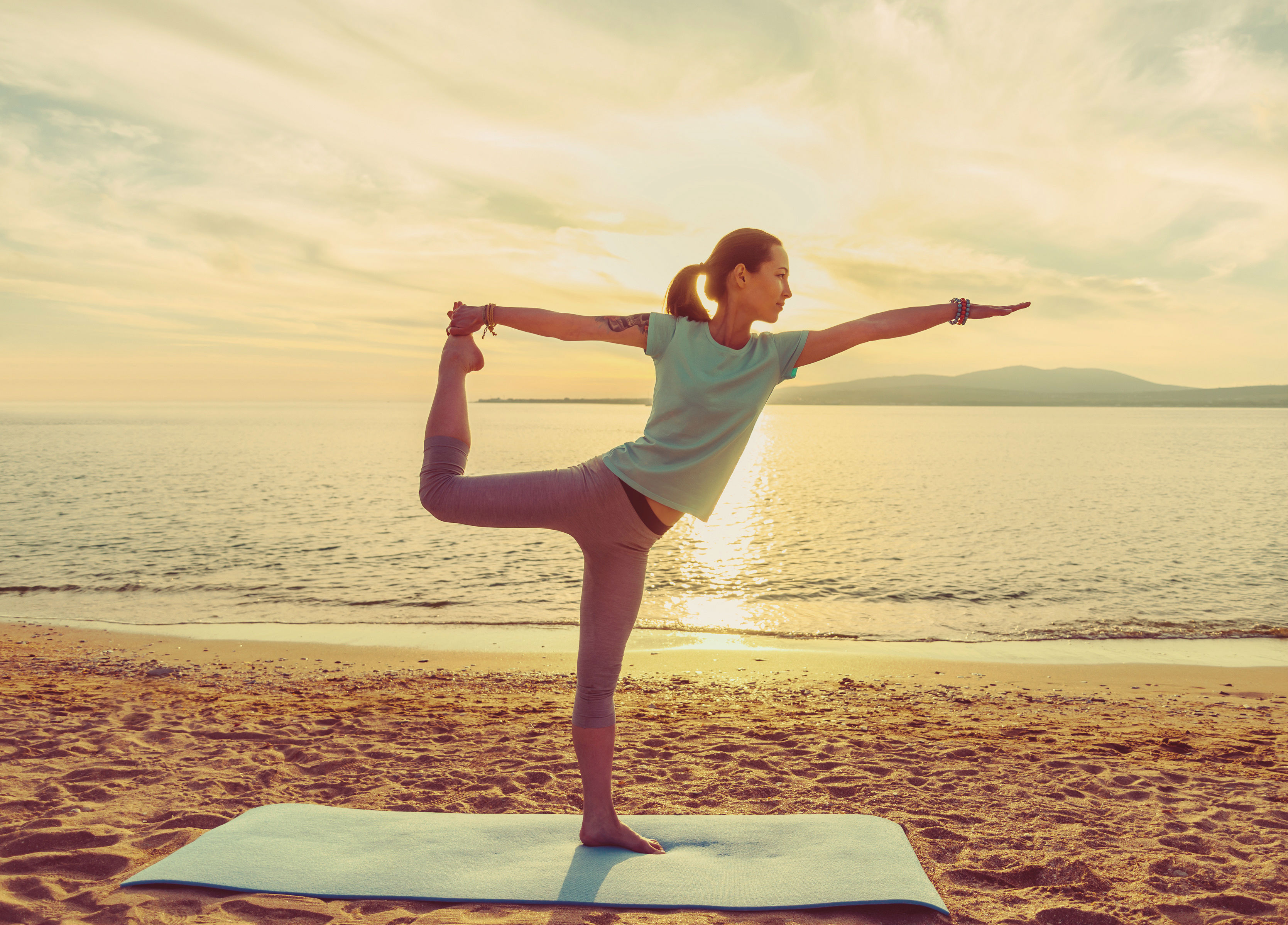 Outdoor Mat
If practicing outside, your yoga mat might be set up on dirt, grass, gravel, or pavement. While it is good practice to clean your mat after every use, this might not be practical, and you don't want to track unwanted grime into the studio. Think about what your mat will come into contact with and consider getting a mat that is reserved for outdoor use only.
Sweat Management
Outdoor practice often goes hand in hand with warmer weather, which means you may sweat a bit more than usual. Bring a small hand towel with you to wipe your hands dry throughout your practice. This will allow you to continue your practice as usual without the frustration of slipping and sliding in downward-facing dog. In addition, consider wearing a headband and wristbands to help manage sweat throughout your practice. The type of clothing you wear can also help control your sweat, something like this
would be ideal.
Sun Protection.
The application of sunscreen can protect exposed skin from painful burns and permanent sun damage. If you are concerned it might make your hands slippery, opt for a "sport" sunscreen that is designed to not interfere with your grip. If your skin is extra sensitive, perhaps you should wear lightweight, long-sleeved clothing so that your skin is not as exposed. There are also garments designed to block UV rays if you are concerned about permanent damage to your skin.
Shades
Your skin isn't the only thing that can be affected by the sun; depending on the glare and intensity of sunlight, your eyes may also require an additional layer of protection. Adjust your mat to face a direction where you are less likely to look directly into the sun. In addition, consider wearing sunglasses to protect your eyes and allow you to see better.
Flora and Fauna
Are you affected by allergies? Do you feel like mosquitos are more attracted to you than they are your friends? Are you afraid of stray dogs? We all have unique peculiarities that must be considered when contemplating a change in setting. Anticipate outdoor elements that may potentially get in the way of your practice, and take the necessary precautions, whether allergy eye drops, bug spray, etc.
Choose Your Setting Wisely
If you are practicing in a park or other public outdoors space, remember that it is likely there will be other people there or passing by at some point. Determine how much privacy you need to practice yoga comfortably and choose a location accordingly.
Take the precautions necessary to keep yourself comfortable and enjoy the beautiful opportunity to take your yoga practice outdoors.